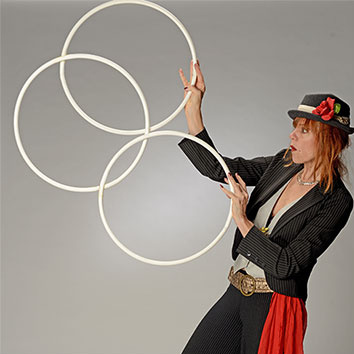 Comedy and Magic
"Paprika has great stage presence. She brings all manner of
variety arts to her performance combining juggling,
magic, mime, and clowning to create
her own unique style."Mysto the Magi
Award Winning Stage Magician
_
Exciting Juggling with
Fire Clubs and Knives
Paprika has traveled the world sharing her performance
skills in over 21 countries and counting..
the Magic of Paprika is a
world-wide phenomenon!
Events Festivals Stage
Award Winning!
PCAM 2022
(Pacific Coast Assoc. Magicians)
1st Place Novelty and Innovation
2nd Place Stage CompetitionTAOM 2022
(Texas Assoc. of Magicians)
1st Place Stage CompetitionVoted Best Family Entertainer
Austin ChronicleIBM Ring 60 Magic Club
First Place CompetitionSAM 206 Magic Club
Second Place Competition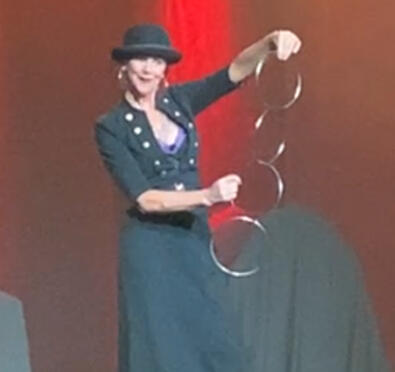 Invite Paprika to
YOUR Next Event!
What they are saying...
"Paprika adds the spice
to any show. Her magic
and juggling is a
real crowd-pleaser.
Highly recommended!"
Phil Ackerly
Pro Magician
\"I heartily recommend Paprika as an excellent performer for
large and small venues with corporate magic and juggling shows,
as well as family entertainment for magic, juggling, and emcee work.She is a consummate professional,
and I've seen her keep audiences enraptured
and amazed, laughing and giving her standing ovations!
I can attest to her timing, professional attitude,
creativity, and of course, the vaudevillian creed of
"Give 'em what they want and more!" with her stage show!
... she brings out the kid in everyone!"
Shannon Sedwick
Owner, Esther's Follies
Comedy Theater
Since 1977
on historic 6th Street in Austin
\"Paprika has a flair and sense of stage
presence and movement that is unique
among magicians."
Kim Silverman
Professional Magician
\"Paprika is charismatic, energetic and "play-fully"
FULL of athletic magical tricks "tailor made" for the
most diverse of fun-filled occasions!"
Amparo Garcia
Director/Writer/Actress
\"She's a pure spirit and performance artist who wants
to have fun and everyone around her to have fun."
Bob Livingston
Musician Extraordinaire
and TV Pilot Co-Producer
\'Paprika delights her audience with humor,
skills, creativity and pizzazz!"
Elizabeth Walsh
Entertainment Booking Agent
\"Paprika has a warm personality, fun to work with .
Quite the bright ringleader for
conscious creators in Austin, Texas!"
Randi Southard
Owner Indra's Awarehouse/Austin
\
Thanks for Visiting
paprikamagic.com
email: magic (at) paprikamagic.com